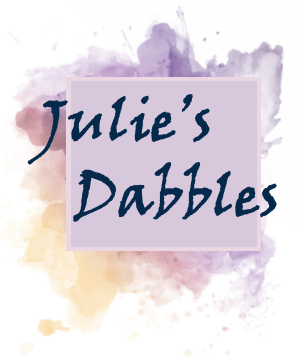 Originally trained as a Graphic Designer, I then followed a different path which took me into teaching on the Wirral, where I live with my husband, son and a crazy dog! Happily, I've recently found time to rediscover my love of art and craft, and I now spend my spare time 'dabbling' in as many crafts as I want – hence the name Julie's Dabbles!
My work is all handmade and ranges from cards, hanging decorations and felted/stitched pictures, to miniature model beach huts, boats and houses. More recently, I've added seascape pictures as well as bird and fish mobiles to my collection. Is there a theme? Nature? The seaside? Fabrics? Sewing? Wood? Making? All of those, but I've also grown increasingly keen to use 'found' materials, like driftwood from local beaches (and even the odd bit of wood from a skip!), and I enjoy upcycling materials such as old jeans, ribbons, fabrics – basically, anything that might have been destined for a bin or charity shop that I can give another life to. The feeling when I finally realise I do have a use for that bit of something I've been saving is fantastic – and it also adds to the unique nature of my pieces, as no two are ever identical.
If you like what you see, I'm happy to discuss commissions or requests.
juliesdabbles@gmail.com