Seaglass Candle Workshop | £27.50 | Beginner Friendly
August 7 @ 1:00 pm

-

3:00 pm

Free – £27.50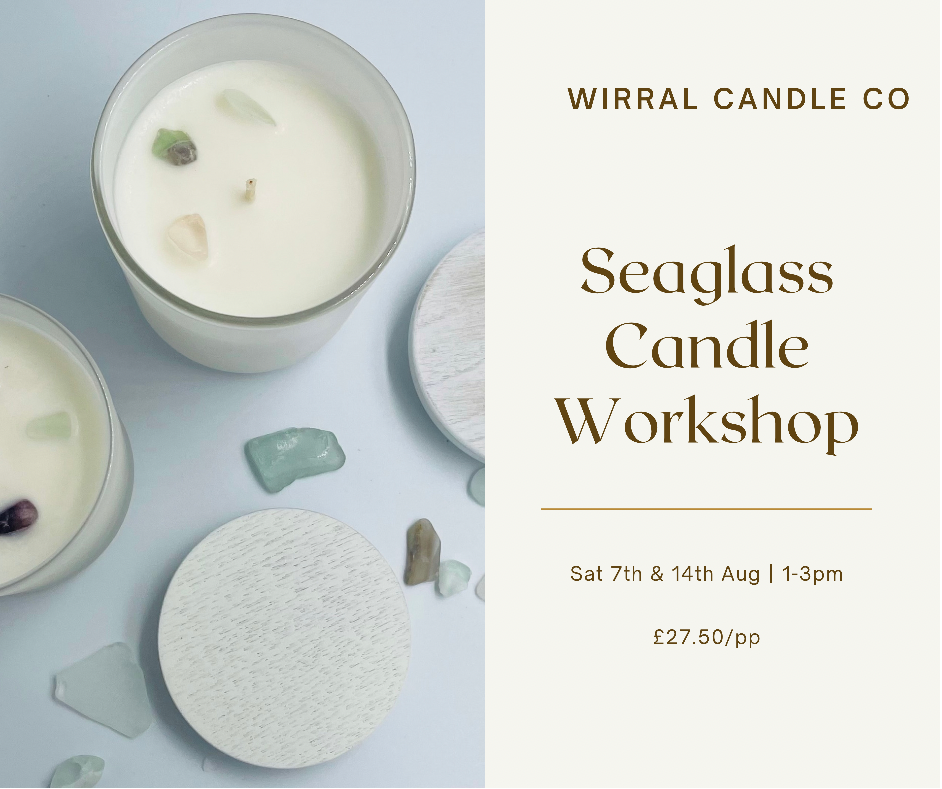 It's true to say that the Wirral has many stunning beaches and each is unique and beautiful in its own way. Maybe you like to go with the family and enjoy a picnic or you might prefer to go as the sunsets. Whatever your preference it's sure to be a precious time and a feeling that you might want to capture in a beautiful scented candle.
During this 2 hour workshop, we will scent test several scents which I feel represent a different beach experience whether that be a bracing, windy coastal walk in New Brighton, a meandering stroll to Red Rocks with your dog or a walk around the Marine Lake in West Kirby. We really are spoilt for choice!
Once you have picked your scent, you will be able to choose frost, matte white or matte grey glass along with a piece of sea glass to embed in the candle and have the option to add dye. During the workshop, you will be shown how to prep your vessel and wick it and using your own wax melter, melt your wax, blend your chosen fragrance oil, add dye and finally pour your own candle. We will embed the sea glass as the candle sets. You will also be able to make a scented wax sachet or wax melts and use botanicals and other materials to embed in them.
The candle will be made and allowed to set and will be ready to collect 7 days later once it's been cured, trimmed & the finishing touches added. Your completed candle will come with a white washed wooden lid, boxed and gift bagged with printed candle care instructions.
Each 180g/medium candle should burn for approximately 40 hours and is made using sustainable wax (no additives or paraffin), fragrance oils are vegan friendly and cruelty & paraben free.
Workshop Dates:       7th Aug  2021 | 14th Aug 2021
Workshop duration:  1.5-2 hours
Cost:                             £27.50 p/p
Experience:                Beginner friendly
Recommended age: 14 years upwards
Ideal for:                     Beach & candle lovers!
What's included:       All materials, tuition
What you make:        Scented sea glass candle plus wax sachet or wax melts with botanicals
Refreshments:           Barista coffee/tea & fresh locally made cake
So, this workshop will hopefully help transport you back to the beach and evoke memories of your precious time spent there.
Related Events